Herorats Dapp developer IOST QED talks on Herorat game and how it helps fund charity. He also talked extensively on IOST Blockchain and what makes it the best Chain to develop a Decentralized Application. Here is a full detail of the interview.
First, can we have an introduction and a brief history of IOST Q.E.D? How did the nickname IOST Q.E.D come about? What was the reason you became a programmer?
Q.E.D. stands for Question Every Deduction, which means, "Let's approach everything that happens in blockchain with even the least obvious."
You launched Herorats a couple of weeks ago, can you give us an update?
Herorats is being updated almost every day. We use data analytics tools such as mixpanel and google analytics to update based on data gathered, and we've recently improved UX to make it easier for users to enjoy games.
In addition, we are working on tokenizing the featured mice in the Herorats game.
It's similar to Ethereum's CryptoKitties that are generally known to a lot.
In addition, we are using IRC721 Standard to prepare an NFT market for easy exchange and sale of these NFTs within the IOST ecosystem.
Finally, there will be a new play mode called "The Rivally." It's kind of like a Guild War, and the teaser image will be released soon.
Your game, Herorats, tell us about hero rats in real life? What role do they serve?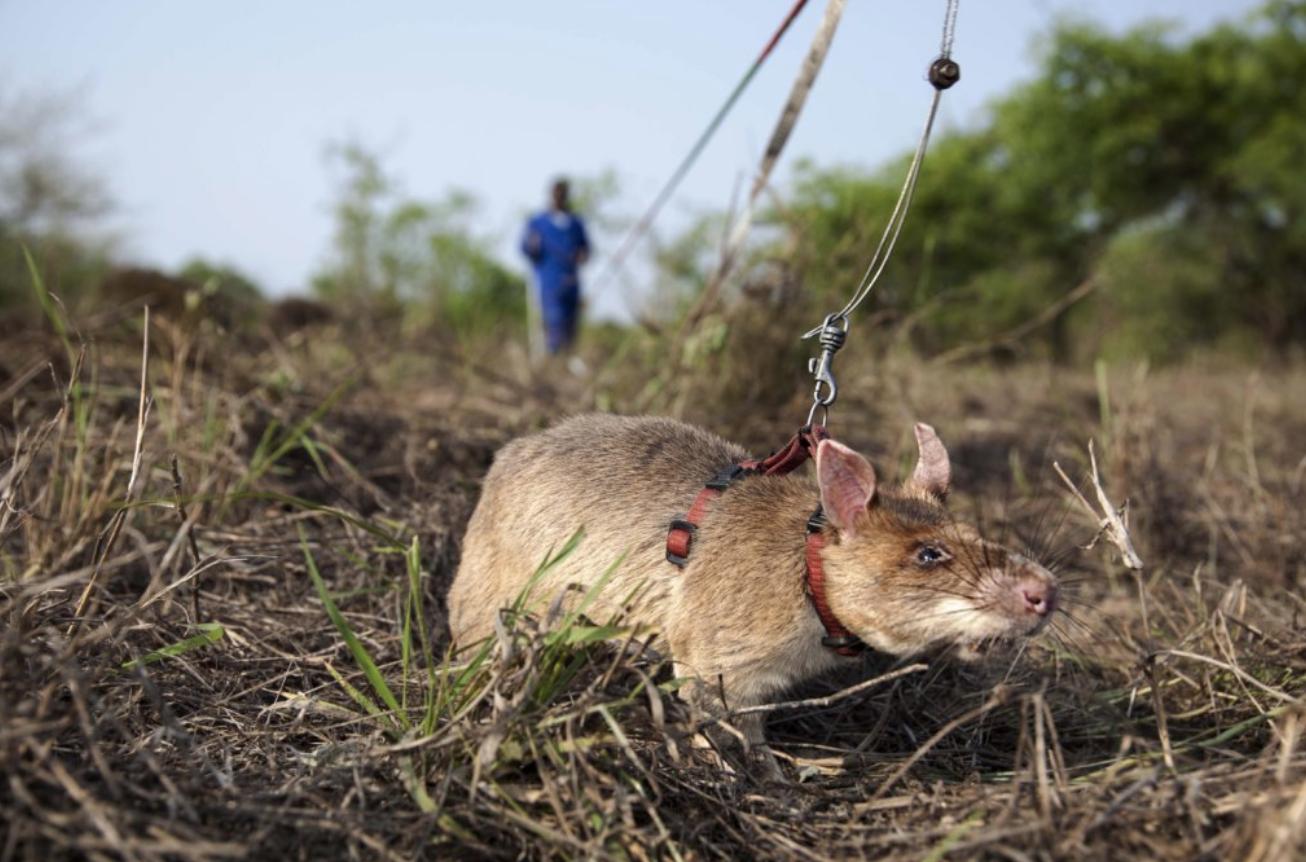 The name Herorats is actually what they call the rat they are raising at the APOPO Foundation, which is working with us.
The rat's official name is African Pouched Rat, whose unique characteristic is to hide food deep in the ground and come and eat it whenever they are hungry later.
The APOPO Foundation used these rats traits to train them to find landmines buried under the ground, and the results were successful.
In fact, nine countries – Mozambique, Tanzania, Cambodia, Angola, Zimbabwe, Colombia, Vietnam, Laos, and Thailand – are using Herorats to remove landmines.
With this method, Mozambique removed 200,000 landmines from 21 million square meters and Cambodia from 15 million square meters to 45,000 square meters.
Moreover, the most attractive thing here is that rats do not explode when they climb onto landmines because of their lightweight.
The game is played with IOST only, is part of that donated to the charity?
There is an account called 'apopo' in IOST. And there is a code within the game's contract that automatically sends a certain amount of donation to this account when playing the game.
You may be the first to integrate IOST or any blockchain game with PayPal, can you talk about that process?
As many people agree, there are far more users in the world who don't know Crypto than Crypto users.
After recommending games to acquaintances, the feedback that usually comes back was that the payment was too complicated.
Because of this, we created a system that received Fiat payments, which was familiar to ordinary users, and that was how Paypal was linked.
The process eventually began by asking, "Should we only support Crypto payments just because it's a DApp?".
Who created the artwork and music that is used in the game?
The person who made Artwork is the designer of our team.
The designer has a high understanding of blockchain technology because he majored in engineering together.
He is also a blockchain UX expert who has studied convincing general users of the blockchain's unfamiliar UI, having made many blockchain-related products such as cryptocurrency exchanges, IDE and wallets since 2017.
The person who produced the music, surprisingly, is a developer working for a major game company in South Korea.
His hobby is making music, and while he's actually eating, he makes music with his iPad, and all the music that he has created is great.
He is a genius.
What is the reception of the game players?
Game players are divided into "Practice Mode" players and "Prize Mode" players.
The "Prize Mode" player pays the IOST for each play, which is then buried on the map.
As players play more and more, entrance fees accumulate, and IOST builds up on the map.
When a user clears the map, he or she can earn a portion of the map as prize money, part of it will be donated to the APOPO Foundation, and the rest will be redistributed to the map for the next round. In other words, players can expect more revenue with a basic admission fee.
"Practice Mode" players can also earn prize money, with a certain portion donated, but the amount is much smaller than the "Prize Mode".

Can you give us a brief overview of the gameplay?

It's just like the minesweeper game we played on Windows once when we were kids.
Click all areas of the map to clear them, avoiding the minefield. For users who have not tried Minesweeper, detailed tutorials are available on the game site.

What are some of the best features of developing on the IOST blockchain?
The most attractive thing is that it is able to develop Smart Contracts through JavaScript.
Other than that, short block time, resource costs can be predictable.

What are the biggest challenges of developing on the IOST blockchain?
In addition to IOST, I have also developed smart contracts on a blockchain platform such as Ethereum and TRON.
In Ethereum's case, too slow block time, always consumed gas fee was the most inconvenient.
TRON was better than Ethereum, but the fact that block time was three seconds was also slightly inconvenient.
Also, the language of Solidity is still uncomfortable.
However, the above difficulties have never been experienced while developing a smart contract on the IOST platform.

Do you have companies backing up the project with funds?
We set up a company called "Second Impact" to make blockchain products in more earnest, and since it has not been established for less than a month, we are not yet sponsored by the company.

If you were to predict the future, what will the next wave of dApps be?
A game that emphasizes the nature of blockchain is likely to draw attention.
While many people in the blockchain industry talk about "Transparency" and "Value Transfer",
I don't think any product has yet presented the properties in a proper way to show the value of blockchain to the public.

What other things do you want the IOST community to know about?
Many IOST investors, mostly in telegrams, seem to be skeptical about when prices go up and whether IOST is really a good platform. I can't give a definite answer to this because I can't predict the future, but what I can say as a blockchain developer is the easiest and most convenient of all existing blockchain platforms to create.
Mainly IOST is compared to Ethereum, EOS, and TRON, so to speak of the inconvenience with each platform, Ethereum, as everyone knows, must pay a very small fee, even if the activity is a very trivial activity in the blockchain.
In a nutshell, suppose Twitter is on the Ethereum platform, and every time you press the "Tweet" button on Twitter, you have to pay an inexpensive but intrusive fee when you press the "Like" button.
Also, to develop Ethereum's Smart Contract, it must be developed in the language of "Solidity," which is not only inconvenient to develop, but there are not so many developers familiar with the language.
EOS develops Smart Contract in the language "C++". Nor is this commonly used language among developers.
TRON also develops Smart Contracts in the language of "Solidity." The same language as Ethereum and the better part is that Ethereum has a block time of 15 seconds, whereas TRON is only 3 seconds. What this means is that after I press the "Like" button, "Like" is recorded three seconds later, no matter how fast. (Ethereum is 15 seconds later at the earliest.)
IOST develops Smart Contract in the language of "Javascript." Developers who use Javascript language are more than 50% of all developers and are constantly developing, and are most comfortable to use. Also, IOST's block time is about 0.5 seconds. To continue with the example of the "Like" button, you can understand that as soon as you click it, "Like" is recorded.
Also, unlike Ethereum, IOST is not an architecture that pays a small fee for any action. In the case of IOST, users do not have to pay separately because staking a certain amount of IOST continues to provide fees for transactions, such as the game's Mana Point. As it is now, I think IOST is the platform that is more likely to attract developers in the future.

Your projection of IOST in this Q3?
I heard in Q3 that IOST is going to launch a developer Bounty program.
In Q1, there was also a developer bounty program, which made many products not long after launching the main net and provided a development ecosystem.
IOST-Q.E.D. also participated in Q1's developer bounty program to create IOST's Chrome-Extension wallet, iWallet.
Q3's Bounty program is also likely to involve many developers to create a development ecosystem, many DApp.
You can play Herorats on https://herorats.io/